12-Hour Ping Pong Marathon!
Circuit Webteam:
May 2018
A recent 12-hour table tennis marathon or 'Pingpongathon' at the Sawyer Hall at Christ Church Nailsworth in Gloucestershire raised over £709 for Christian Aid.
Organiser Revd Stuart Radford, who became known as the Ping Pong Priest, said more than 80 people took part to help raise this excellent total for the relief work of this worthwhile charity.
You may also be interested in
Circuit Webteam: Tue 19 Mar 12:25pm
You are welcome to join with us at any of our additional services being held during Holy WeekYou can also download and print our Holy Week ServicesChurchMaundy ThursdayGood FridayAbbeydale18.00 Holy Communion with Revd Robert Draycott14.00 Service of Reflection (Local Arrangement) Aylburton19.00 Maundy Meditation with Revd..
Circuit Webteam: Tue 19 Mar 12:20pm
Most of us will be familiar with some lines from Sebastian Temple's adaption of the Prayer of St Francis: "It is in pardoning that we are pardoned, in giving unto all that we receive, and in dying that we're born to eternal life" (STF 707). Even if we also remember that forgiveness often starts with God ("We love because he first loved us": 1 John 4.19), these lines...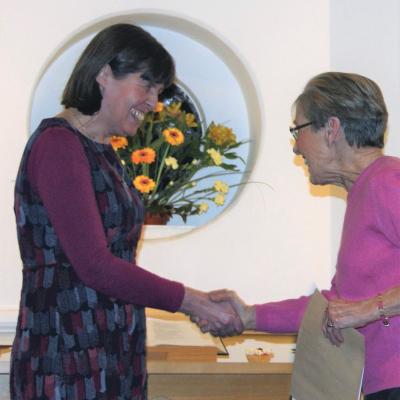 Circuit Webteam: Wed 13 Mar 9:30am
Despite hail, snow, gale force winds, thunder and lightning, Gloucestershire's new Methodist Local Preacher, Julie Biggs, received a warm welcome from a packed congregation at a special Service of Recognition at Churchdown Methodist Church.Mrs Biggs, who is Lay Worker at Lonsdale Road Methodist Church in the City's Elmbridge/Longlevens area, thanked everyone for supporting her through...