BBC Points West News presenter a big hit at Church Fayre
Circuit Webteam:
November 2017
A record £1,700 was raised from the annual Autumn Fayre at Lonsdale Road Methodist Church after BBC Points West news presenter Sabet Choudhury declared this years event open.
Sabet said he was delighted to be invited to come along and do the honours as he felt this sort of community event is vitally important, and spoke to many people during his tour of the stalls and building.
Around two years ago Sabet hit the headlines when he donated one of his kidneys to his very ill Mum. Because of the shortage of deceased donors of Asian origin, Sabet was told his mother Sakina would only live approximately three years after her kidneys failed. Thankfully the operation was a success, but Sabet said the wait for some ethnic minority families could be "long and fatal".
Autumn Fayre coordinator Mike Haines said, "we are thrilled by the response and a massive thank you to Sabet for starting things off. The funds raised will help support the community in so many ways. A big thank you to everyone for being part of it".
High tempo dance performances by local group 'Inspire' plus bulging stalls, along with mouthwatering refreshments, bacon butties, an auction of meat, toys, books, crafts and cakes, coupled with competitions like guess the weight of the cake, name the doll and other initiatives, all helped to raise the cash.
You may also be interested in
Circuit Webteam: Tue 19 Mar 12:25pm
You are welcome to join with us at any of our additional services being held during Holy WeekYou can also download and print our Holy Week ServicesChurchMaundy ThursdayGood FridayAbbeydale18.00 Holy Communion with Revd Robert Draycott14.00 Service of Reflection (Local Arrangement) Aylburton19.00 Maundy Meditation with Revd..
Circuit Webteam: Tue 19 Mar 12:20pm
Most of us will be familiar with some lines from Sebastian Temple's adaption of the Prayer of St Francis: "It is in pardoning that we are pardoned, in giving unto all that we receive, and in dying that we're born to eternal life" (STF 707). Even if we also remember that forgiveness often starts with God ("We love because he first loved us": 1 John 4.19), these lines...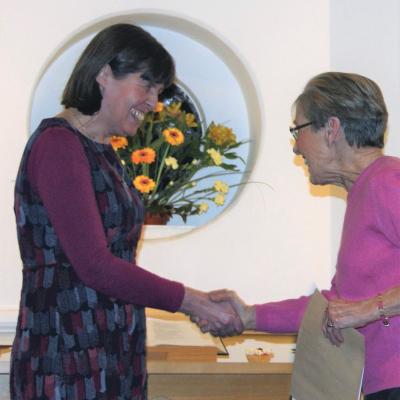 Circuit Webteam: Wed 13 Mar 9:30am
Despite hail, snow, gale force winds, thunder and lightning, Gloucestershire's new Methodist Local Preacher, Julie Biggs, received a warm welcome from a packed congregation at a special Service of Recognition at Churchdown Methodist Church.Mrs Biggs, who is Lay Worker at Lonsdale Road Methodist Church in the City's Elmbridge/Longlevens area, thanked everyone for supporting her through...