Postponement of Circuit Assembly on 18 March 2018
Circuit Webteam:
March 2018
After consulting and establishing the weather conditions around the county (snow and ice, and the forecast for the rest of the day):
the Assembly this afternoon and this evening's Circuit Service will NOT TAKE PLACE, and
the Assembly (but not the Circuit Service) is POSTPONED to take place instead next Sunday 25 March at 3pm, again at Cheltenham St Mark's.
The decision not to meet today is obviously made with regards to everyone's safety, and the recognition that many would simply not be able to get there. The decision to hold the Assembly next week, and not simply to cancel, is motivated above all by the wish to reflect together those proposals and decisions which cannot be delayed until the Assembly in May.
Due to evening services already in place at both St Mark's and elsewhere, there will be no Circuit Service following the rescheduled Assembly. Instead, we will aim to end the Assembly at 5.30pm to allow stewardship arrangements for existing services to go ahead as planned. There will be no tea served after the Assembly, however cups of tea or coffee and biscuits will be served before the rescheduled Assembly from 2.30pm on Sunday 25 March.
With many thanks to everyone for their understanding and flexibility in these particular circumstances.
You may also be interested in
Circuit Webteam: Tue 19 Mar 12:25pm
You are welcome to join with us at any of our additional services being held during Holy WeekYou can also download and print our Holy Week ServicesChurchMaundy ThursdayGood FridayAbbeydale18.00 Holy Communion with Revd Robert Draycott14.00 Service of Reflection (Local Arrangement) Aylburton19.00 Maundy Meditation with Revd..
Circuit Webteam: Tue 19 Mar 12:20pm
Most of us will be familiar with some lines from Sebastian Temple's adaption of the Prayer of St Francis: "It is in pardoning that we are pardoned, in giving unto all that we receive, and in dying that we're born to eternal life" (STF 707). Even if we also remember that forgiveness often starts with God ("We love because he first loved us": 1 John 4.19), these lines...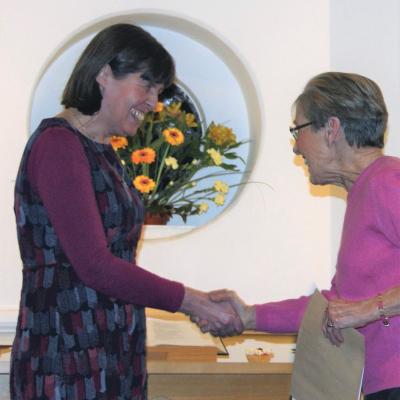 Circuit Webteam: Wed 13 Mar 9:30am
Despite hail, snow, gale force winds, thunder and lightning, Gloucestershire's new Methodist Local Preacher, Julie Biggs, received a warm welcome from a packed congregation at a special Service of Recognition at Churchdown Methodist Church.Mrs Biggs, who is Lay Worker at Lonsdale Road Methodist Church in the City's Elmbridge/Longlevens area, thanked everyone for supporting her through...