Sisters ordained together
Circuit Webteam:
July 2016
Having arrived in Cheltenham almost two years ago from The Queen's Foundation Birmingham, then a further period of challenge, testing and training, Gloucestershire based Methodist Minister the Revd. Naomi Cooke will be ordained on Sunday 3 July at the annual gathering of the church's governing body, the Methodist Conference.
Meeting this year in London, Naomi's ordination at Wesley's Chapel, City Road, London, is at the same place and time as her eldest sister the Revd. Deborah Mallett. Now working in Nailsea, North Somerset, Deborah trained through the Salisbury based Southern Theological Education and Training Scheme.
Naomi is Minister at Bethesda Methodist Church Cheltenham and Hawling Methodist Church. She says, "whilst there are many siblings in the Methodist Ministry, I am not sure how many of them have been ordained side by side. This may be quite a unique occasion in the life of our church".
The service is one of seven throughout London, Surrey and Essex, where a total of 56 people will be ordained. At Wesley's Chapel seven Ordinands will receive the 'laying on of hands' from the new Methodist President, the Revd. Dr. Roger Walton. The Preacher is Methodist Superintendent Minister at Wesley's Chapel, the Revd. the Lord Leslie Griffiths. Having preached on many occasions at Gloucester Cathedral and many other churches in the county, Lord Griffiths is no stranger to Gloucestershire.
You may also be interested in
Circuit Webteam: Tue 19 Mar 12:25pm
You are welcome to join with us at any of our additional services being held during Holy WeekYou can also download and print our Holy Week ServicesChurchMaundy ThursdayGood FridayAbbeydale18.00 Holy Communion with Revd Robert Draycott14.00 Service of Reflection (Local Arrangement) Aylburton19.00 Maundy Meditation with Revd..
Circuit Webteam: Tue 19 Mar 12:20pm
Most of us will be familiar with some lines from Sebastian Temple's adaption of the Prayer of St Francis: "It is in pardoning that we are pardoned, in giving unto all that we receive, and in dying that we're born to eternal life" (STF 707). Even if we also remember that forgiveness often starts with God ("We love because he first loved us": 1 John 4.19), these lines...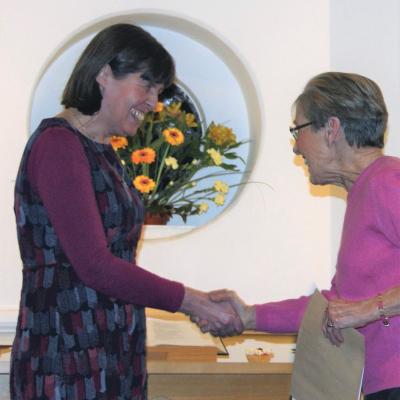 Circuit Webteam: Wed 13 Mar 9:30am
Despite hail, snow, gale force winds, thunder and lightning, Gloucestershire's new Methodist Local Preacher, Julie Biggs, received a warm welcome from a packed congregation at a special Service of Recognition at Churchdown Methodist Church.Mrs Biggs, who is Lay Worker at Lonsdale Road Methodist Church in the City's Elmbridge/Longlevens area, thanked everyone for supporting her through...