Wotton under Edge Bake Off!
Circuit Webteam:
March 2018
There was a splendid array of cakes at the recent Men's Group Baking Competition ranging from tea loaves, sponges, flapjack and fruit cake. The worthy judges were tasked with cutting and tasting, and noting the appearance and texture of the cakes and it took some time.
They eventually decided that Godfrey's light as a feather sponge cake with a spiral of jam and cream was the worthy winner. Copious amounts of tea were drunk as the men, and their lady guests, gorged on the delicious cakes. It was a delightful afternoon of indulgence!
You may also be interested in
Circuit Webteam: Tue 19 Mar 12:25pm
You are welcome to join with us at any of our additional services being held during Holy WeekYou can also download and print our Holy Week ServicesChurchMaundy ThursdayGood FridayAbbeydale18.00 Holy Communion with Revd Robert Draycott14.00 Service of Reflection (Local Arrangement) Aylburton19.00 Maundy Meditation with Revd..
Circuit Webteam: Tue 19 Mar 12:20pm
Most of us will be familiar with some lines from Sebastian Temple's adaption of the Prayer of St Francis: "It is in pardoning that we are pardoned, in giving unto all that we receive, and in dying that we're born to eternal life" (STF 707). Even if we also remember that forgiveness often starts with God ("We love because he first loved us": 1 John 4.19), these lines...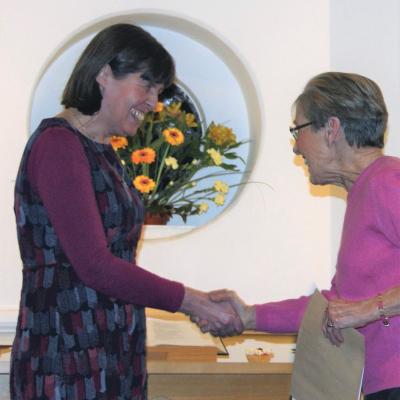 Circuit Webteam: Wed 13 Mar 9:30am
Despite hail, snow, gale force winds, thunder and lightning, Gloucestershire's new Methodist Local Preacher, Julie Biggs, received a warm welcome from a packed congregation at a special Service of Recognition at Churchdown Methodist Church.Mrs Biggs, who is Lay Worker at Lonsdale Road Methodist Church in the City's Elmbridge/Longlevens area, thanked everyone for supporting her through...