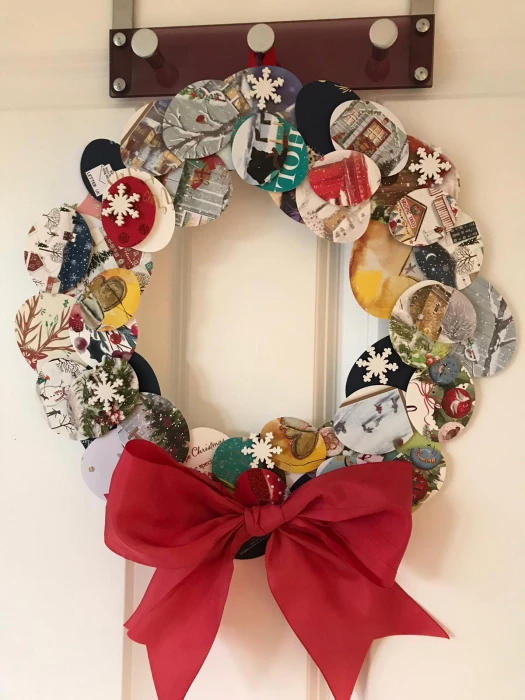 Lonsdale Road Methodist Church is hosting a two day Wreath Festival to be opened by BBC Radio Gloucestershire Presenter and BBC Radio 4 'The Listening Project' Producer, Faye Hatcher, at 10am on Friday 26 November.
Complete with cakes and cuppas you can also buy some of the display items made by the Church Craft Group. Wreath Festival coordinator Mrs Julie Gillard says, "Some of the wreaths are made from recycled Christmas Cards, rings of wood, woollen pompoms, baubles, fir cones, debris you may find on the beach and much more".
Preparation started last year, but were halted by Covid, however many people have used the time to focus on getting ready for this years festival.
Organisations include: Elmbridge Under 5's, Longlevens Active Seniors, Longlevens Knit and Natter, Lonsdale Scout Group, St John's Northgate Methodist Church, Gloucester Resource Centre, Brockworth House, Kendal Road Baptist Church and many more.
Julie says, "Many churches have Christmas tree festivals and Nativity Festivals. As far as I am aware Lonsdale is the only one with a Wreath Festival. It allows so much scope for creativity. Wreaths are a circle of eternity and a celebration of life and death".
Tickets for a Christmas Hamper raffle, plus crafts, gifts, and jewellery on sale, the recycled Wreath Festival continues on Saturday 27 November from 10am to 4pm and ends with a Service of Celebration at 10.30am on Sunday 28 November with Revd Andrew Biggs and includes the lighting of the first Advent Candle.