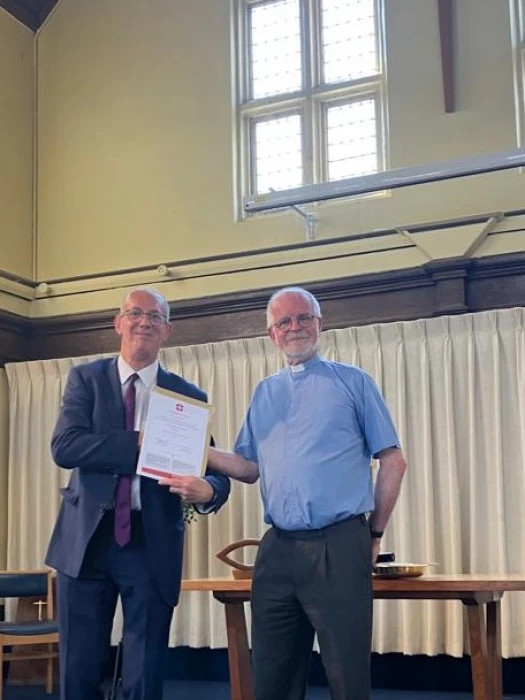 On Sunday 25 June David Bennett received a Certificate marking 40 years as a Methodist Local Preacher since he qualified in 1983.
The award made during the morning worship was presented by Superintendent Minister Revd John Hellyer as part of the 114th Anniversary celebrations of Lonsdale Road Methodist Church.
David says he is grateful to so many people for their help and support. "From early days when our Youth Group at Sidwell Street Methodist Church in Exeter would take a once a month service. Then moving to Gloucester in the late 1960's, the then youth leaders at Lonsdale Methodist John and June Aldridge, for raising the initial conversation. Then area Tutor the Revd Peter Muff and Local Preacher John Bell, all shared their knowledge and kept me on the right track.
In the early 1980's, because I lived in Gloucester the churches I preached at were around the City and surrounding district. Now with a Gloucestershire County wide area you can go west to the Forest or as far east as Wotton Under Edge or Tetbury and north to Tewkesbury. The sky is the limit! I am very grateful to the many congregations across Gloucestershire and beyond for their kindness, welcome, encouragement and fellowship".
Sometimes strange things happen beyond your expectations. "One morning I was due to take a service on a Military base and I was arrested as an imposter. All because I didn't have a white collar! In another service someone got up during the worship and told me they wanted to pray for someone in Baghdad. Then a Sunday road closure meant I had to detour for miles, but I made it just in time."
David also served 40 years as area Methodist Media Officer, including 14 years for the Gloucestershire based medical charity Cobalt Appeal, plus support and contributions on local radio Sunday Breakfast.